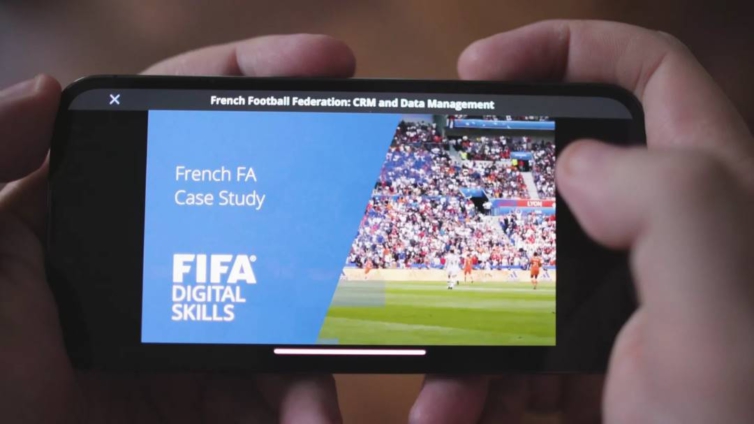 FIFA has launched FIFA Digital Skills, an educational programme designed to develop the expertise of professionals in the global football community on all things digital, through a dedicated e-learning platform and a series of live masterclasses.
As administrative and business activities continue to develop due to emerging technologies, the programme will be a crucial tool for member associations seeking to hone their skills in many areas.
Representatives from FIFA's 211 member associations now have access to masterclasses from some of the world's biggest and most innovative brands.
Through the platform's peer-to-peer learning function, users can also host tailored sessions focused on their own experiences. From best practice case studies from football stakeholders to analyses of the latest technological trends from the brands driving the digital revolution, FIFA Digital Skills aims to leverage the power of the digital world to maximise the strategic and operational effectiveness of those running the game globally.
"As the world changes around us, we need to invest in people so that they are better placed to embrace the future," said FIFA's Chief Member Associations Officer, Kenny Jean-Marie. "We are proud to launch a platform that will be a one-stop resource for member associations, allowing them to access valuable information and encourage learning as part of the football community in the area of digital. I am proud that we are providing this platform, and that the member associations will be contributing to the process by sharing their success stories to benefit us all."
FIFA's Director of Strategy, Digital and FIFA+, Charlotte Burr, added: "The FIFA Digital Skills initiative is powered by FIFA +, our world-class digital destination for football fandom. We already have nearly 100 MAs on board and more than 400 participants learning and sharing their experiences, and we want to continue to use FIFA+ as a platform to give the entire world of football a voice, telling their stories and bringing their beautiful game to light. The FIFA Digital Skills initiative will provide best practices from experts and organisations for the 211 MAs to develop their digital capabilities to appeal to future fans and, ultimately, grow football for all."
In support of FIFA's commitment to strengthening football professionals' competencies worldwide and exploring new technologies that can positively impact the game and the wider industry, the initiative complements the wide-ranging educational products and services available to FIFA's member associations. FIFA Digital Skills' unique offering aims to provide a 360-degree view of digital's role in enhancing football across all levels of the game – from grassroots to the elite.
Having launched at the end of 2022, participants from across the globe have had the opportunity to engage with the programme and take their digital skills to the next level.
"I really appreciated the FIFA Digital Skills initiative because it's a whole package of how to successfully create a great digital marketing plan and strategy for our association," commented Fatouma-Degan Mohamed Idriss, Djiboutian Football Association.
"We had a wonderful time and learnt very valuable lessons," added Ahmad Abuzaid, Jordan Football Association. "Great experience, the case studies allowed us to see in a practical way the points to improve in our digital strategy and the templates allowed us to review the entire marketing strategy of the federation for more efficiency," said Franchelle Bijou Boutamba Mouyabi, Gabonese Football Federation.