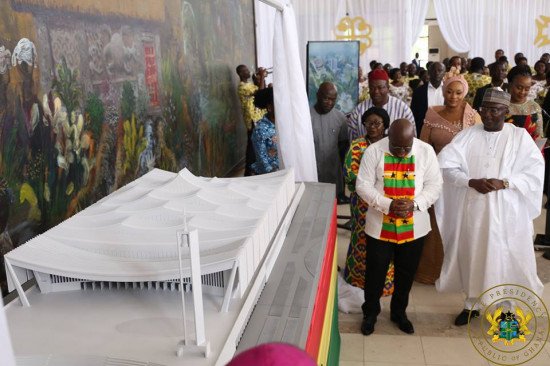 The Board of Trustees of the National Cathedral has assured that they will fully cooperate with the Commission on Human Rights and Administrative Justice (CHRAJ) in the investigation into alleged corrupt practices relating to the project.
This, the Board believes will restore the trust of all Ghanaians in the activities of the Cathedral.
A statement signed by the Board Chairman, Apostle Prof. Opoku Onyinah on January 24 said it had noticed the calls for investigations into the project and is ready to deliver full documents on the project so far.
"The Commission on Human Rights and Administrative Justice (CHRAJ) which is the constitutionally mandated body to investigate matters of procurement and accountability in such projects, has also made the Board a respondent in its investigations into the operations of the National Cathedral project. The Board will cooperate fully with CHRAJ in its work," the statement noted.
The Board revealed that it has taken steps to engage Deloitte, an auditing firm to begin auditing the documents on the project.https://www.myjoyonline.com/duncan-williams-eastwood-anaba-call-for-suspension-of-national-cathedral-construction-until-independent-audit/embed/#?secret=vZIDetTIcl#?secret=SNkxSX4Zj7
"The Board is already in discussions to engage Deloitte, which accepted to be the auditors when the National Cathedral was registered, to commence the normal statutory audit," the statement read.
The Board of Trustees further noted that it has submitted documentation on the project to Parliament and the House may set up a commission or appoint an independent auditor to review all issues concerning the award of contract, procurement, construction works, and financial operations of the National Cathedral project so far if it so desires.
According to the statement, inadequate funding has brought the construction work on the project to a standstill.
The major reasons for the inadequate funding, the statement said include; "a general misunderstanding that it is the state that is fully funding the construction of the National Cathedral, and that within the challenging economic atmosphere in the country, this is misplaced."https://www.myjoyonline.com/ofori-attas-contingency-for-national-cathedral-a-window-for-stealing-domelevo/embed/#?secret=xMU8Sx1oZB#?secret=1axRTpIb3U
The other reason, the Board explained, is due to the "general impression being created that the National Cathedral project is not being executed with the expected high Christian standards of integrity, transparency, and accountability."
However, the Board of Trustees said it is hopeful of completing the project once the lamentations about the projects have been resolved.
"It is the hope and trust of the Board of the National Cathedral of Ghana that once these nagging issues are satisfactorily dealt with, the public interest and confidence in the project would be restored and rekindled to enable the citizenry to contribute generously to complete the Cathedral to the glory of God."