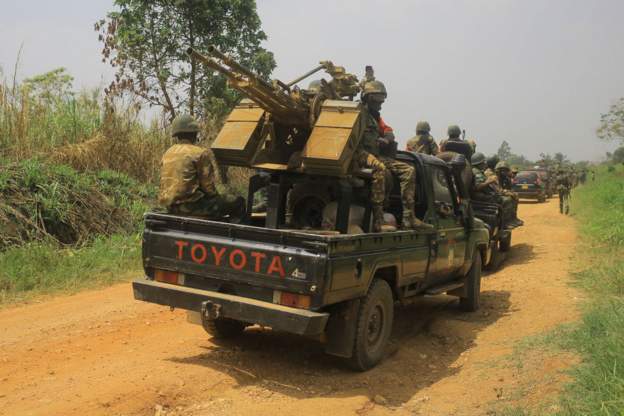 Government soldiers have been fighting armed groups in the east (File photo)https://248d0b6984d9e84e2e8b56575a9d2b15.safeframe.googlesyndication.com/safeframe/1-0-40/html/container.html
One thousand Special Forces personnel have been dispatched to Bawku in the Upper East Region, where three immigration officers were shot at, one of whom died while trying to get food in front of a police station.
The presence of the Special Forces is intended to increase security while also assisting investigation into the killers who are still on the loose.
The Regional Minister, Stephen Yakubu made this known in an interview  on Wednesday.
"REGSEC, we are intensifying, government is helping us by bringing in Special Forces to Bawku, about 1,000 of them both police and soldiers."
He added that "some are already at Bawku. Camps are already being built to house these soldiers."
Other measures, he claims, have been put in place to improve regional security, but he declined to elaborate.
Mr Yakubu urged civil society and individuals to come forward with any information they may have about the incident.
Despite the fact that no arrests have yet been made, he claims that authorities in Bawku are working round the clock to make arrests.
"I can tell you that we are in control of the situation. Government is helping us otherwise it would have been worse than this," he assured.
Meanwhile, the Bawku Central MP, Mahama Ayariga has condemned the attack on personnel of the Ghana Immigration Service(GIS) which occurred on Monday, April 3, 2023.
In a press release, the legislator said it was worrying that people would be killed in their line of duty.
He, however, assured that an inquiry will be conducted into the matter.
"This is most reprehensible and should not be repeated again. An investigation into the matter must be conducted and the perpetrators brought to book," the April 4 release read.