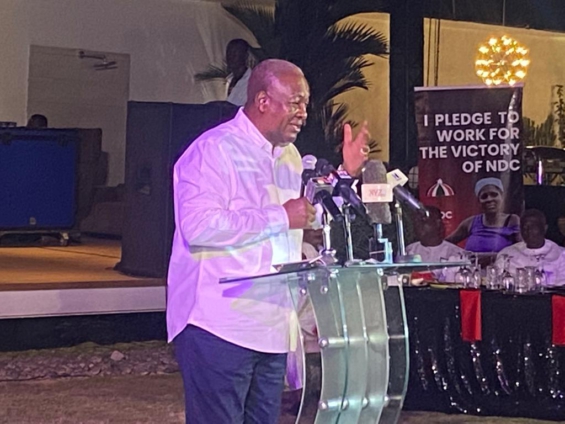 Former President John Mahama has urged Christian leaders in politics to incorporate characteristics of Jesus Christ into their political lives.
He stated that the trappings of political power can give one the impression that they are immortal.
Mr Mahama, therefore, Christian leaders must incorporate aspects of Jesus Christ into their political lives in order to successfully navigate their tenure in office.
The NDC presidential hopeful said this in commemoration of the resurrection of Christ while attending the Holy Hill Assemblies of God Church at Circle.
On his part, the head pastor of the church, Rev. Kwadwo Boateng Bempah cautioned Christian politicians to stop going against the tenets of the Gospel.
He emphasised the need to fight same-sex marriages and the LGBTQ+ community at large.
Rev. Bempah then made a direct appeal to Mr Mahama to fight the phenomenon if he is given the opportunity to lead the country as president again.
"Sir, since you have been a father before, if God ever shows you mercy and gives you another chance, remember to promote righteousness in Ghana and to stand strong against homosexuality.
"This is because God is going to judge us. Whatever we do with every opportunity he gives us.
"We need to fight against abominable sins to avoid the wrath of God that brought a curse on Sodom and Gomorrah," he said.
However, Mr Mahama who responded to the admonishment affirmed his Christian faith.
"God has blessed me, he has guided my steps, any possible office, the politics of this office I have occupied, I have been a deputy minister, I have been a minister, I have been a member of Parliament for three terms, I have been a vice president and ultimately I have been the president of the Republic of Ghana.
"Wherever you go, you get soldiers lined, welcome parades, you inspect guards of honour, the band is playing and often what it does is, it gives you a sense of immortality, if you are used to the trappings of office, you will think that you will never step out of the office and so what I say to Christian politicians is that let's take christlike features into the work we do as politicians," he responded.