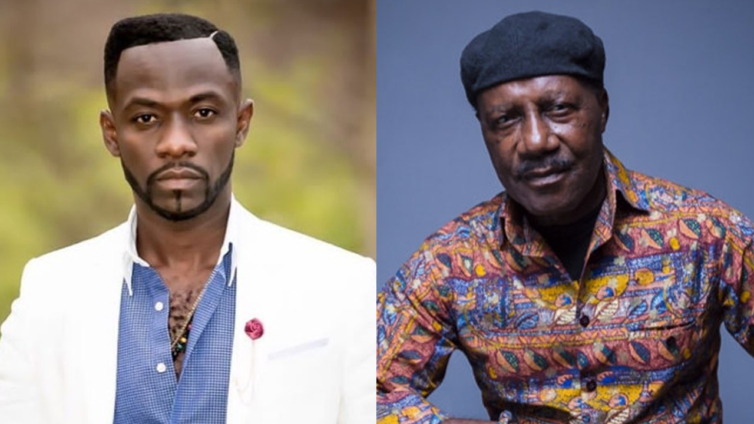 Okyeame Kwame and Ambolley
Highlife musician Gyedu-Blay Ambolley has apologised to hiplife artiste Okyeame Kwame over claims that the latter received monies shared with artistes.
This comes three years after he claimed that the rapper was one of the musicians given a share in the government ¢2 million meant for the Musicians Union of Ghana (MUSIGA).
In an apology on LinkedIn, Ambolley noted that he was 'mistaken', explaining that MUSIGA's former President Bice Osei Kuffour aka Obour did not personally hand over any government fund as a loan to Okyeame Kwame.
He admitted that his claims that the 'Made In Ghana' hitmaker did not repay the money he received were also false.
"Obour did not give Okyeame Kwame a personal loan from MUSIGHA funds. To support artistes and enable them access loans, MUSIGHA entered an arrangement with Midland bank and provided security/collateral for the arrangement," he wrote.
Mr Ambolley added that "Okyeame Kwame only took advantage of the initiative and applied for a loan from Midland bank which he was given."
He noted that the Hiplife artiste has also paid back the loan in full.
"To the extent that my earlier statements may have affected the reputation of Okyeame Kwame, I apologize and state that the errors in my statements were not made maliciously," Ambolley added.
Background
In February 2020, musician Gyedu-Blay Ambolley alleged that few musicians in the country were the sole beneficiaries of the GH¢2 million government gave to MUSIGA.
He said in an interview on 3FM that the former President of MUSIGA, Bice Osei Kufuor the recipient of the cash then, is the one who shared the money meant for the union with the musicians close to him.
"When that money came Obour gave those surrounding him, ¢50,000. I know what I am saying, I am not fabricating anything," he alleged.
However, following his claims Okyeame Kwame threatened to sue the veteran artiste if he does not apologise within 72 hours.
But, in another interview on 3FM, Ambolley stated that he is not ready to apologise within 72 hours stating that he needed a week to make his checks and get back to Okyeame Kwame either with an apology or his facts.
According to him, he knows that something shady went on when MUSIGA was given the money.
But, he later Ibrahim Ben-Bako on Joy Prime, that he does not need the time to prove his allegations because the accountability would either justify his claims or Okyeame Kwame's.
Okyeame Kwame later sued Ambolley for defamation.
A press release issued by Ambolley's lawyers indicated that the parties settled the suit "in a court-connected mediation process" and as part of the settlement issued an apology.